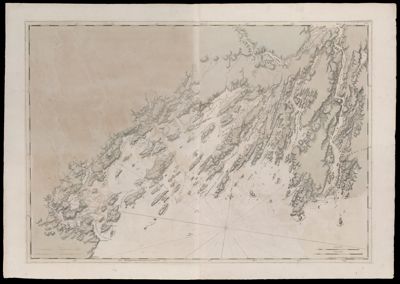 Coast of Maine- From Roger's Bay to Portland Sound including Falmouth Harbor, Dated July, 1776
Collection: Osher Collection
Name: Coast of Maine- From Roger's Bay to Portland Sound including Falmouth Harbor, Dated July, 1776
Barcode: 818
From Atlas: No
Notes: Note: "Publish'd According to Act of Parliament July 1776, by J.F.W. Des Barres Esqr." Title supplied by cataloger, no title on map itself.Map shows Casco Bay including islands, bays and harbors: Portland Sound; Falmouth Harbour; Ram Island; Banej's Island; Houfe Island; Peaks Island; Little Hog Island; Great Hog Island; Hussey's Sound; Long Island; Makey's Island; Presumscok Cove; Broad Cove; Green Islands; Jewels Island; Halfway Road; Jewels Island; Crotch Island; Great Jebieg Island; Brocon Cave; Broad Sound; Drunker's Island; Little John's Island; Cousin's Island; Majea's Island; Little Whale Boat Island; Great Whale Boat Island; Mark Islands; Mericonig Sound; Mericonig Neck; Mericonig Harbour; Balies Island; The Silver Islands; Goose Islands; Magout Bay; Birch Island; Middle Bay; Little Jebascadiggin Island; Pond Island; Ram Island; Rugged Island; Mark Island; Cohauk Bay; Great Jebascadiggin Island; New Meadows Harbour; Merrymeeting Bay; Long Beach; Parkers Island; Segadahock River; Rodger's Bay; Stage Island; Segevin Island; Cape Smallpoint; Smallpoint Harbour; Flagg Island; Long Ledge.
Creator: Anonymous / Unknown Author,
Publisher: Des Barres, Joseph F. W. (Joseph Frederick Wallet), 1729-1824
Date/Date Range Produced: 1777
Date/Date Range Published: 1777
Language: English
Region Depicted: Casco Bay, MaineCumberland County, MaineLincoln County, MaineMerrymeeting Bay, MaineSagadahoc County, Maine
Map Type: Nautical chartsTopographical maps
Dimensions: 74 x 106 cm.
Printing Process: Engraving
Printing Technique: Copper
Material Type: Paper
LC Call Number:
OCLC:
Accession Number: OS-1777-6
Donor: Osher
Subjects: Casco Bay (Me.)CoastsCumberland County (Me.)IslandsKennebec River (Me.)Lincoln County (Me.)Maine--MapsMaps--Early works to 1800Merrymeeting Bay (Me.)Nautical chartsPortland (Me.)Sagadahoc County (Me.)South Portland (Me.)
Permenant URL: https://oshermaps.org/map/818.0001